Research projects
The group has been involved in several national and international research projects funded by the European Union's Seventh Framework Programme or the Horizon 2020 Framework, the German Federal Ministry of Education and Research (BMBF), or The German Federal Ministry for Economic Cooperation and Development (BMZ).
The Third Bavarian Consumption Study (BVS III) is being conducted jointly with the project partners Chair of Epidemiology at the Augsburg University Hospital and the Competence Center for Nutrition (KErn). The study is funded by the Bavarian State Ministry of Food, Agriculture and Forestry (StMELF).
Its aim is to record the current nutritional status as well as the consumption habits and nutrient intake of the Bavarian population. It thus provides a solid basis for assessing the risk of diet-related diseases and for developing appropriate health and nutrition policy measures.
TUM's research focus here is on the aspect of the sustainability of nutrition.
The significance of nutrition on health has been well known for a considerable period of time. Personal food intake has a great influence on the short- and long-term state of health. After food intake, strong fluctuations in blood glucose levels occur. These fluctuations vary from person to person. The influencing factor is not only the food intake itself. Other factors, such as dietary habits, body composition, lifestyle, physical activity and sleep, as well as the composition of the intestinal bacteria, all appear to play a significant role in the fluctuations of blood sugar.
Food & You DE is a study that looks at these fluctuations in blood glucose levels after food intake, paying particular attention to the individual factors mentioned above. Hence, health and nutrition of the participants can be recorded and evaluated on a personal level.
Developing a personalised dietary strategy, especially with regard to personal blood glucose response, is very important as:
each person reacts differently to nutrition-related factors,

personalised diets are generally more effective than mainstream dietary recommendations, and

long-term changes in dietary behaviour are favoured.
Food & You DE is coordinated by the Technical University of Munich (TUM) and is a side arm of the large-scale Food & You study. Food & You was initiated by the Digital Epidemiology Lab at the École polytechnique fédérale de Lausanne (EPFL) in Switzerland, where the project has already been running successfully since 2019. The entire study is done online. You will receive the required study material sent to your home by post. The costs will be covered by us. There will be no face-to-face appointments and you will conduct the study by yourself (under guidance).
By participating in this project, you will learn about the association of your food intake and your blood sugar levels! This will give you a better understanding of how your blood sugar responds to food, exercise and sleep, and what your gut bacteria have to do with it!
The study is expected to begin in late 2022!
Many thanks for your interest!
FNS Cloud is a European research project funded by the European Commission's Horizon 2020 Framework. It consists of 36 partners from 15 European countries and aims at overcoming the fragmentation of the European research infrastructure by federating Food Nutrition Security (FNS) data essential for addressing diet, health, and consumer behaviour as well as on sustainable agriculture and the bio-economy. The implemented cloud solution will reduce knowledge gaps that inhibit public health and agricultural policy and will benefit the food industry, reducing development and production costs and will facilitate informed consumer choice and ultimately, healthier European citizens.
Enable Cluster
Enable is an interdisciplinary competence cluster of nutrition research funded by the Federal Ministry of Education and Research (BMBF). It is particularly dedicated to research for strategies to promote healthier food choices in all stages of life.
Work Package 3.5 of the Enable cluster deals with Personalized Nutrition & Communication investigating ICT based means for modifying dietary habits.
Nutrition & Health
Nutrition has a significant impact on health and plays an important role in the development of chronic diseases such as diabetes mellitus and cardiovascular diseases. Nutritional recommendations as a preventive measure are often based on general population guidelines, without addressing individual factors. In the EU-funded project Food4Me (www.food4me.org) first steps were taken towards a personalized dietary intervention.
Personalized Nutrition
In Work Package 3.5 of the Enable cluster, this approach is continued and new methods for the individualization of nutritional recommendations are developed and the effectiveness on health behavior will be examined. Recommendations are based on food preferences, nutrient uptake, health-relevant blood parameters and physical activity. The collection of the individual data and the output of the personalized nutritional recommendations are carried out via a smartphone app, which uses techniques from the area of ??persuasive design and recommender systems.
Due to the high number of smartphone owners and app users, a mobile nutrition app represents a good way to reach many people and make nutritional interventions easier for both the scientists/nutritionists and the participants of the intervention. Smartphone app based interventions have already been successful in reducing body weight and stimulating physical activity. However, there is a lack of data that investigates nutritional behavior in this context.
Nutrilize
Nutrilize is a nutrition app developed by scientists from the field of nutrition and informatics. With this smartphone app the individual nutrition behavior can be recorded. Other individual indications, like body weight or food preferences, have to be inserted separately. In consideration of this information, recipe recommendations are given that are individually tailored to you.
With the smartphone app we want to reach more people than with conventional nutrition advice, which is not available or affordable for many people. The app provides an interesting alternative to conventional methods, as you can enter data from home or from the road and immediately get recommendations back. In addition, the app makes it easy to track your personal progress, allowing you to keep track of them.
eNutri2019 is an intervention study conducted by the Technical University of Munich, which examines the efficiency of personalized online nutrition councelling in comparison to conventional recommendations. Does personalized online nutrition councelling result in greater changes in nutritional behaviour?
Sequence
After collecting participant information, the participants had to fill in a Food Frequency Questionnaire (FFQ) (duration approx. 30-40 min). After successfully transmitting data, one out of two nutritional recommendations are returned. Participants try to fullfill these recommendations after best conscience. After 4weeks, the FFQ is filled in again and evaluated.
After successful participation, each proband receives a 10 € Amazon voucher.
Registration
You are of full age and want to participate in eNutri2019 to assess your diet?
You can find our contact form here.
(Mastering the German language is a prerequisite)
Please note that for proofing your eligibility, we require all in the contact form asked data. Please state your complete address, since the declaration of consent is sent postally.
Contact
Do you have questions? All necessary information can be found here.
Or maybe our FAQ may help you.If this doesn't help you, you can send an E-Mail any time.
Is it possible to design a better, healthier and more individual diet? Understanding the relationship between food and gene expression may make this a reality. Food4Me is a university led, EU funded research project investigating all aspects of this exciting field.
The complete mapping of the human genome sequence in 2000 introduced the possibility of individualised medicine, including personalised nutrition. During this time the field of "nutrigenomics" emerged, which examines the relationship between food and gene expression. Many were hopeful about the ability to plan diet recommendations based on an individual's genetic profile.

However, the promise of personalised nutrition has failed to develop as a commercial service, and matching dietary advice to genetic profiles has proven difficult. Some companies offer genetic mapping and health reports, but these services are often based on inaccurate information.

There is a need to comprehensively analyse the opportunities and challenges in the field of personalised nutrition. In addition, the fundamental question remains: How can we best use our current understanding of food, genes, and physical traits to design healthier diets tailored for each individual?

To address these concerns, Food4Me has gathered an international group of experts to survey the current knowledge of personalised nutrition, and to explore the application of individualised nutrition advice. The Food4Me project will also investigate consumer attitudes and produce new scientific tools for implementation.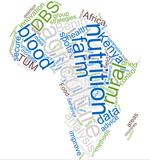 Food insecurity and malnutrition are among the key challenges in West Africa. The majority of the rural population make their living from agriculture and most smallholder farmers rely on their production to meet their nutritional requirements. Next to the issue of undernutrition, overnutrition can also be found in developing countries nowadays, leading to a double burdon of malnutrition.
Personalized nutrition might contribute to overcome these problems by specifically taking regional available food into account. It makes use of information on food choices and/or total food intake and can include phenotypic data (such as anthropometrics) as well as biomarkers in blood.
Together with Agricultural Production and Resource Economics at TUM as well as Institut National des Recherches Agricoles du Bénin (INRAB) we are
Performing an integrated analysis of livelihood strategies, rural labor, dietary habits and nutritional status of households in rural areas in Benin, West Africa
Developing of a tablet-based dietary advice system to provide individual recommendations for households on food security and nutrition.
Establishing methods for analyzing dried blood spots (DBS).
720 households were randomly selected in all agricultural zones of Benin. The study followed a within-subject experimental design with four rounds of data collection in 2017/2018.
In the first round, we gathered information on household composition, livelihood strategies, production systems, resource use and allocation, agro-ecological conditions, cultural backgrounds, dietary habits, nutritional status and anthropometrics of women, children and men. The interviews with household members were be performed by enumerators using apps on tablet PCs.
For the second, third and fourth round, the villages were randomly assigned to either an intervention or a control group. The control group received 10 basic recommendations on healthy nutrition in Benin. The intervention group was provided with personalized advice by means of a computerized feedback app. This feedback system made use of the households' food habits and advised to consume more or less of certain food in order to meet the members' individual estimated requirements. The system was developed in an inter­disci­plinary and iterative approach with the informatics department at TUM.
In about 200 households in Benin, men, women and children also donated dried blood spots (DBS), which are analyzed at INRAB in Benin. For this, TUM researchers established a measurement for analyzing soluble transferrin receptor in DBS to determine the iron status. INRAB researchers visited the TUM lab in October 2017 to learn this analysis technique at our lab and transfer their knowledge to their lab in Benin.
The analysis of the effectiveness of personalized nutrition advice in Benin as well as the DBS analyses are currently ongoing.
Quisper is a Server Platform (QSP) providing access to scientifically validaed data and knowledge rules relevant to personalized nutritional products and services. It will help companies and researchers access and apply scientifically sound data through an open-innovation platform with a wide range of web services.
Exploiting the concept of open application programming interfaces (APIs), the QSP is a technology based platform that aims to facilitate data exchange and collection. Predefined protocols will allow those engaged with personalised nutrition to identify, use or aggregate data and information from different sources and create new knowledge, new protocols and help citizens live healthier lives.
Quisper builds on a previous project called QualiFY that was funded within the EC's Seventh Framework. Since 2018, Quisper is finacially supported by EIT-Food.